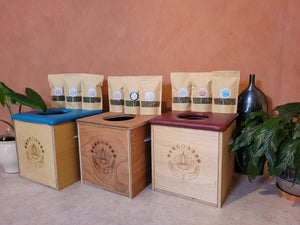 Natural | Organic | Holistic
Handcrafted Products to
Nurture your Body, Spirit and Home.
Holistic Yoni Wellbeing & SMEP Wellbeing
Holistic Yoni Wellbeing offers handcrafted products and services to nurture your body and spirit, and enliven your home. All our products are organic and carefully formulated to ensure the highest quality and best results. We are proud to offer a variety of wellness services including Yoni Steam Coaching and personal one-to-one sessions, Sacred Hawaiian Nourishing Lomi, Hawaiian Fertility Lomi massage, and pre and post natal treatments.
Holistic Yoni Wellbeing
Wildcrafted organic herbal Yoni Steam blends, coaching and steaming chairs/thrones.
SMEP Wellbeing
Products for your Spiritual, Mental, Emotional and Physical Wellbeing
Gift Cards
Give the gift of a pampering treatment to someone you love.
Courses
We offer a range of courses including Yoni Steaming & Self Care, Lingam Steaming and Nourishing Fertility Womb & Lomilomi Massage Course.
Services
Michelle McMurtrie offers a range of services that strive to bring balance to the spiritual, mental, emotional and physical elements of the human form. These practices vary from Remedial massage (and various other forms of massage), Fertility massage, Yoni Steaming, Emotion and Body Code, as well as focusing on nutrition and improving digestion.
★★★★★

Migraine headaches for over 20 years which I took medication for, and most times would end up in bed and vomiting. I was told hormonal migraines after 3 treatments with Michelle they started to reduce, after a couple more treatments I have not had to taken and medications of anytime off work and I can say I am still migraine free.

Donna

Warwick, QLD 4370
★★★★★

I have suffered from psoriasis for many many years, I know now that is brought on by stress. I had 3 treatments of the emotion and body code with Michelle and I and happy to say my skin is clear and no sign of psoriasis

Justin

Warwick, QLD 4370
★★★★★

Michelle has such a beautiful energy, wonderful work ethic and as far as I can tell she is just magic. 100% recommend Michelle to everyone. Not to mention that Michelle has also worked on my partner, daughter and my son for body and emotion coding and how our lives have changed. A woman with a lot of knowledge and passion for helping people in the most natural way. Love SMEP health & fertility clinic.

Bobbie-Jean

Warwick, QLD 4370
★★★★★

We would not hesitate to recommend Michelle to anyone suffering any form of upset, anxiety, depression or any other issues as the list this can help with is endless. Michelle is a very approachable caring woman whom we feel completely comfortable in our treatments knowing that it is fully confidential and professional.

Kerry

Warwick, QLD 4370
★★★★★

I honestly would hate to imagine where I would be if I didn't steam! Michelle has been my rock through my journey. She didn't give up on me and She has got me living again! I'm not afraid of my cycle. #Yonisteamingforlife

Leaha

Warwick, QLD 4370
★★★★★

I have been steaming for 12 months, and the benefits have been amazing. As I have an imbalance in the colon (ulcerative colitis), Steaming and alterations to my diet have vastly improved my health. On the erectile side there has been great improvement that I can say I am very pleased with. I recommended all men invest into steaming, if not for medical issues but for general wellbeing.

George

Melbourne, VIC
★★★★★

Thank you Michelle for the body code treatments. After being diagnosed with inflammation of the thyroid I was eager to get my health back on track. After 3 body code sessions my thyroid blood test was back to normal indicating no more inflammation.

Sheree

Warwick, QLD 4370
★★★★★

Add customer reviews and testimonials to showcase your store's happy customers.

Author's name

Los Angeles, CA
★★★★★

Add customer reviews and testimonials to showcase your store's happy customers.

Author's name

Los Angeles, CA